As "Thuperlame," the first story in Empowered vol.2, draws to its conclusion with this page, time for a quick look back over this book's "opening shot." Note that this chapter was a solid 22 pages long, considerably longer than any story from the much briefer and choppier narratives of Empowered vol. 1, indicating that I was beginning to expand my ideas of what could be done with the series. (Then again, the next two chapters in vol. 2 are considerably shorter—6 and 4 pages long, respectively—so I certainly hadn't completely ditched the whole "briefer and choppier" motif of the early series.)
As I mentioned earlier, "Thuperlame" represents a key moment in the early development of Empowered. Poor Emp's unpleasant encounter with the enraged King Tyrant Lizard marks the introduction of what I've dubbed "Big Action" to the series, a shift which profoundly altered and expanded my conception of what I could accomplish with this ongoing narrative, a shift which was largely responsible for me wanting to continue working on this throwaway joke of a concept. The similarly lengthy concluding story in volume 2, "Fruity Flakes®", features the first major appearance of the other motif that would supercharge my interest in persevering with the series: "Big Emo," as in emotionally charged content. Well, roughly 32 weeks and 160 pages from now, webcomic readers will see what I mean by "Big Emo"—though I should note that the "Emo" level gets a helluva lot bigger in future volumes.
An odd art note on panels 1 and 2: I'm vaguely bemused to note that I drew the highlights on the, uh, "cheeks" of Emp's mask a bit differently at this point in Empowered. Nowadays, one of my unarticulated "hard rules" for drawing Emp's suit is that the shaded areas around the highlight of her nose never, ever touch the edge of the mask, as you can see in this image from Empowered vol. 8: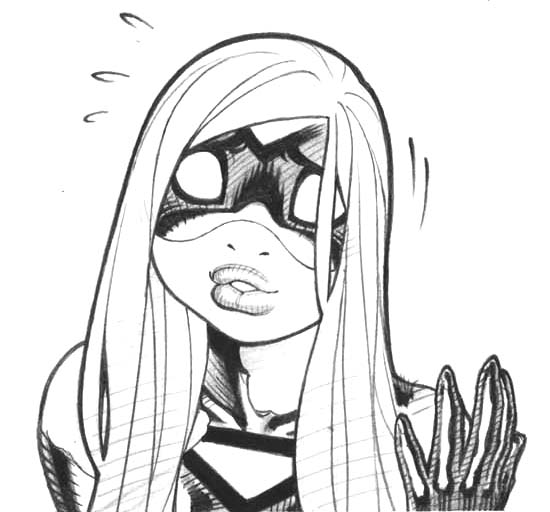 Ah, but at this early point in the series, I was quite sanguine about drawing those shaded areas right to the edge of the mask. Not quite sure when this artistic preference changed, but this page's look seems to last throughout the entire volume. Guess we'll find out together when the trend finally changes, won't we?
Next time around, it's time for "Way of the Ninjette," a story about Emp's BFF tangling with Playstation 2-era videogame ninjutsu. Shenanigans—needless to say—ensue.
-Adam Warren